Tony/Gypsys - New Single 10/14/22
The world is...
"Finding its way into the more delicate and beautiful realm of Tony Mecca's work, "THE WORLD IS ..." preaches constant optimism, no matter what the circumstances, and an eternal plea for hope, peace and love when we pass "beyond the door." Deliciously adorned with the unique and striking artwork of Gypsy's guitarist Steven Wiggs, "THE WORLD IS ..." will move you ... in a beautiful way."
Downloading this song (at a price you choose) helps us create more music for you. Thanks in advance for your love and support.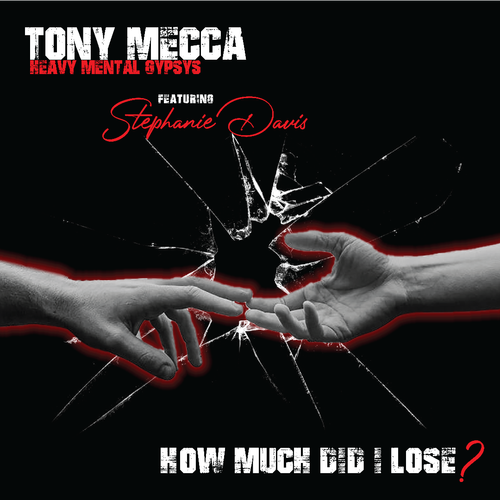 Tony/Gypsys New Single - 7/20/22
How Much Did I Lose?
"Stephanie Davis' vocal performance achieves a beautiful melancholy in wondering what could have been, but also, the power attained via the strength that "moving-on" through life provides. Complimented by the wonderfully striking artwork from Gypsy guitarist, Steven Wiggs, this song has been a complete joy from the moment I started writing, until the final mix at Cambridge SS with Jim Salamone."

Downloading this song (at a price you choose) helps us create more music for you. Thanks in advance for your love and support.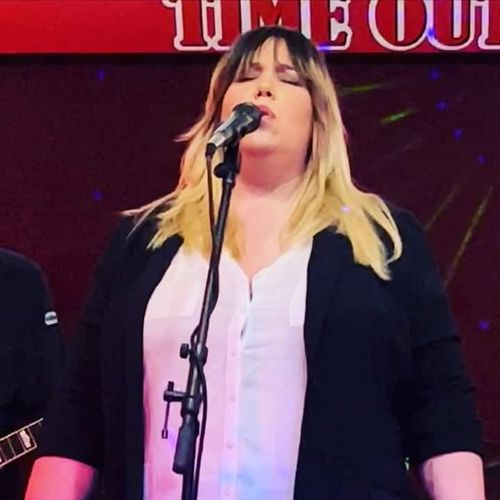 New Singles Soon - 4/14/22
How Much Did I Lose / The World Is...
The boys and girls have been very busy working on new music. Four new songs have been recorded, or are in the process of being completed. The first singles will be "How Much Did I Lose." This is an introspective look back on decisions that resulted in opportunities lost. Stephanie delivers a emotive lead vocal that both laments and celebrates these memories. The other single is "The World Is..." This one goes back about 10 years. We just never were able to record it back then. Now its meaning is more relevant than ever. We are trying hard to release these sometime in late May. Stay tuned!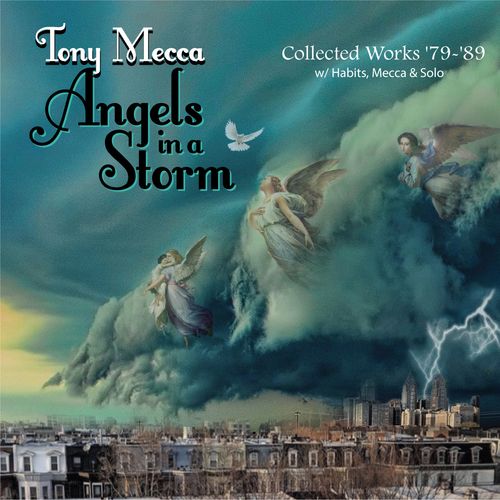 Angels In A Storm - 2/1/2022
Tony Mecca Collected Works '79 - '89
All of Tony's songs with Habits, Mecca and solo taken from live, studio and home demos. Highlighted are live performances by HABITS and TONY MECCA from the iconic Galaxy; HABITS' unreleased TWO WAY RADIO EP and other studio and rehearsal demos; the FEARLESS album by MECCA, including bonus tracks.
There are also many of Tony's never before heard home demos, including a 12 song -"low-fi" - acoustic album from 1989 that has never been played - for anyone. All assembled on a deluxe 4-CD set.
Our target release date FEBRUARY 2023
Summer Half-Price Sale ... 6/24/21
Purple Monkeys through fractured poetry
That's right! 
Prices of all 6 of our CD's and downloads will be cut in half (or more) for the summer.  This includes our new Fractured Poetry CD being sliced to a poultry $6.00!  That's a whole bunch of Rock 'N Roll Psychotherapy for about nine bucks (w/shipping).  Perfect for beach listening, or a soundtrack for cruising the warm summer nights.  Follow the link below, and stay tuned for live Gypsy show announcements.
- - - - - - - - --
Angels In A Storm
The Archival Project
That's the name of our recently completed archival project.  This 4CD set features two complete performances from the iconic Galaxy in Somerdale, NJ - by both Habits and Tony Mecca.  Also included is the entire Mecca "Fearless" album (+ 2 unreleased tracks) - all of the studio & Tony's home demos - and an entire 12 song acoustic project that Tony recorded in 1989 before pausing his music career to raise the family, and begin producing other bands.
Depending on interest, this project may also be released as a single CD compilation with an assortment of songs from the 4 CDs.  Finally, all of the songs will be available to download (both albums or single songs)  - We are in the artwork stage now. 

Hope you like what we've got planned, and until next time, remain in love with your passions!
Love & Care Always, Annie Helicopter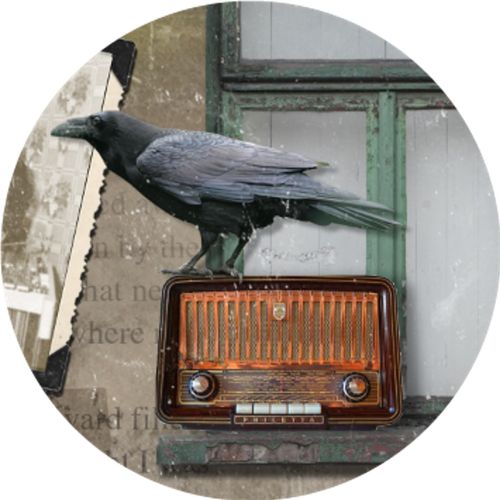 Archival Project Update ... 3/11/21
Angels In A Storm
ARCHIVAL PROJECTS UPDATE
As announced in January, there are several archival projects we have completed for release. Physical products are a possibility, and downloads are for sure. just trying to guage the interest that will dictate these decisions.

The ANGELS IN A STORM project would total 4 CD's, and icludes live HABITS and TONY MECCA shows from 1984 & 1986. All of the studio, and TONY MECCA'S home demoes. The MECCA FEARLESS album with bonus tracks, and a TONY MECCA acoustic album from 1988/1989 that's never been heard.
The KINDNESS project would present an album By Tony Mecca & DAVID DECCA recorded during the sessions for PRINCES OF THE NEW DARK AGE. Kindness is a soulful trip into a mashed-up array of melodic, musical genres.

Please let us know if you have interest in these projects. These are not endeavors designed to generate any kind of profit. Only to get these songs out to those who asked without going broke.
Email your questions and smart-ass remarks to   ...   tmecca@tonymeccamusic.com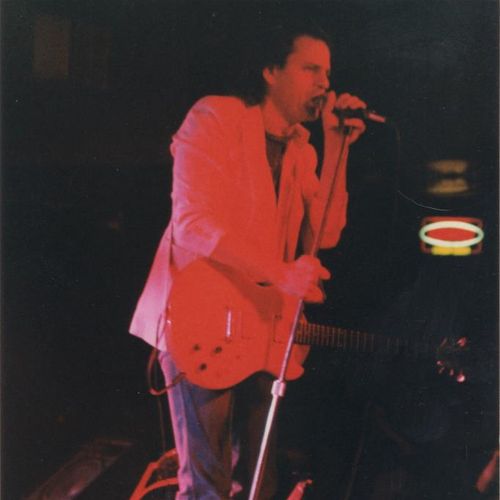 Habits / Mecca / Tony Mecca Archival 1/7/21
New Projects & Plans Coming!
Habits / Mecca / Tony Mecca Archival Project
Titled "ANGELS IN A STORM" -  this 4 Cd set features entire live performances by Habits from April 1984, and Tony Mecca from September 1986.  Both shows were recorded at the iconic Galaxy in Somerdale New Jersey.  And that's only one Cd! 
All of the studio recordings and Tony's home demos are here.  The Mecca "Fearless" album is presented with 2 bonus tracks!  And if that weren't enough, there's a 12 song acoustic album that Tony recorded in 1988/1989 that no one has ever heard.  Interested?
 The 1984 performance came when the band was firing on all cylinders. There was big management, and the record company interest was warming. The 1986 show, with the band now playing as Tony Mecca, featured some new member, many new songs, and although a short-lived  live configuration of the group, they play with great emotion and energy.
 
 The "Kindness" Album  
Recorded simultaneously with Princes of the New Dark Age in 2003-2005, Kindness is a soulful trip into a mashed-up array of melodic, musical genres.  The songs are written by Tony, and his long-time partner, David Decca.  David played a huge part on the Purple Monkeys, Princes of the New Dark Age and Hello, Goodbye ... albums, providing all the keyboards, and some brilliant arrangements. He also collaborated with Tony on the keyboard arrangements on several songs on the Fun album, including "Witch Jenny?"  Kindness boasts such exciting and beautiful work, that you will surely be asking yourself ... "Why wasn't this music released 15 years ago?"

A "Re-Release" of Fractured Poetry
As you know, our new album was released in July/August 2020.  Smack in the middle of the Covid attack.  In fact, yours truly (the invincible Annie Helicopter)  was on my back - Vid stricken and in quarantine - when we officially released.  The album sold surprising well all things considered, but with no live shows or release parties, aggressively spreading the music is very difficult.  So we've decided to start all over when Vidzilla (hopefully) becomes a fading bad memory. Are you game?

Hope you like what we've got planned, and until next time, remain in love with your passions!
Love & Care Always,
Annie Helicopter 1-7-21
Rave Reviews For Fractured Poetry ... 12/3/20
"My Girlfriend Lied" released as a single!
We are overwhelmed, and truly humbled, by the great reviews and wonderfully kind emails about our new album, Fractured Poetry. It means everything to us that our friends and fans love this new music. It makes all of the hard work and sacrifices worth it. We can't wait to play these songs for you sometime in the near future. 
"My Girlfriend Lied" - from the new album - has been released as a single in the Belgium, Netherlands territory by Happy Melody Music. Wow, that pretty cool, huh?
8/2/20 ... Fractured Poetry Released
Pre-orders shipping moved to August 14, 2020
Finally, after several delays associated with state laws, artwork intrigue, and our manufacturer's new shipping policy, we should be sending all CD pre-orders in the next two weeks. Download and Streaming versions of the album should appear in the same time period. This deluxe edition of FRACTURED POETRY features an art-filled 20 page booklet with lyrics, band photos, and beautiful art photography by Olivia Hamilton, Ted Adams, and Steven Wiggs.

Tony says ... "Presenting a total artistic statement was the goal, and we are thrilled with the result. I think our friends & fans will absolutely love this music, and how the brilliant Art Photography captures the spirit of observations and stories told in this music."

Annie Helicopter 8/2/2020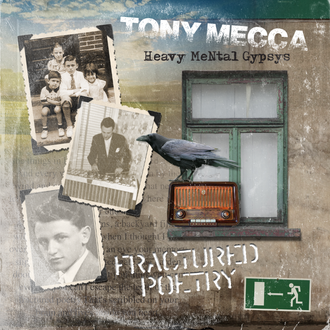 Fractured Poetry Is Coming ... 6/14/20
Pre-order Your copy Now! Release Date July 31, 2020
Through all of our countries trials, tribulations, and dark times, we are finally pleased to announce a realistic release date for our new album. The final post production sessions are being completed in dark studios, under the cover of covert meetings, masks and hand sanitizer. Now, we are so excited for you to hear - what many involved in this project are calling - Tony's magnum opus. But we'll let you be the judge.

. We are also considering a vinyl release of FRACTURED POETRY and HEAVY MENTAL GYPSIES. That'll be a later in the year, and we'll surely let you know. Here is the tentative track sequence:
Annie Helicopter - 6/14/20